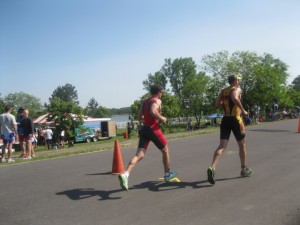 The custom plan I build for you is ideally suited for your needs and is the heart and soul of this business. It is tailored to your objectives, athletic background, and training constraints. To make it unique to you, I'll ask you to describe your life outside multisport.
Following a thorough review with you, Coach Don will create a customized plan just for you. In this plan, we will take into account all the information you provided and layout race-by-race, month-by-month, and week-by-week training that is targeted to your objectives. We do the hard part of laying out a plan for you; you get to do the fun part of doing the workouts and racing.
Types of plans available include triathlon, duathlon, swimming, biking, and running, and combinations of the above. Coach Don's own current training includes triathlons ranging in length from sprint to Ironman distance, as well as a national championship duathlon and an open water swimming race. One of our current clients is training for a triathlon season at sprint and Olympic distances (his first open – water experience) with a marathon after the triathlon season.
Each plan includes an overview of the plan with your annual training hours, season goals, training objectives, and week-by-week listing of races and their priorities training period, strength training, weekly hours, and other details. Each plan also contains a period-by-period graphical week- at- a- time view of each day's training with training period notes detailing each day. In addition, you will frequently receive additional details on exactly what to do in a workout.
Click here to see the overview sample of the training plan
Click here to see the 1 week detail sample of the training plan
With each plan, you'll receive an initial consultation to discuss, clarify, and review, your plan details. The plan overview and provided period- by -period details are delivered as tabs in an Excel format. Individual workout details, such as strength training or swim workouts, are delivered in Word documents as e-mail attachments.
Custom plan features include:
Unlimited phone and e-mail contact with Coach Don.
Totally personalized schedule for you.
Unlimited schedule revisions as needed.
Unlimited feedback on your workouts.
Free personalized coaching in the Dayton, Ohio area
Some race support (If you are in Dayton doing a local race, and Don is not racing elsewhere, he will probably be at the race).
All of this is provided for a very reasonable monthly fee.
As mentioned above, we will rework your plan is many times as we need to. It doesn't matter why we have to do it, rework happens because your work schedule changes, a personal conflict comes up, and other uncontrollable factors that are part of life. In Coach Don's case, he recently dropped a board on his foot, broke a toe and had to revert to 5 min runs after four weeks with no running. You might not to need to rework for this reason; however, we know that rework is inevitable and it is built in to our planning
How to get started:
Contact Coach Don at dscarpero@yahoo.com to arrange a free consultation appointment to discuss your goals and objectives.
Click here to download the Coaching Interest Form and send it to us via mail or email or bring to your appointment.
Download and fill out the waiver and submit it to us
 We send your custom training plan to you and you have the fun of training and racing.
But wait! It doesn't end there! Each week, you'll receive one or more e-mails from Coach Don detailing the week's workouts. You may ask non-workout questions, such as "My local tri-shop is having a big sale! What do I need to get through the season?" and Coach Don will answer. Also, you are encouraged to send Don feedback on your training; he needs to know if your workouts are too easy or too hard, etc. And, we always welcome your race photos, especially if you release us to have your photo on this site.